Squad depth — backups get the glory
It can't be understated the value of RSL's depth. It says something when you take important pieces out of the team and you are rewarded by goals. On Sunday, this came in the form of Luke Mulholland — filling in for Luis Gil who's away with the U23 team — and Jordan Allen — a late sub for Sebastian Jaime. Add to that a host of fantastic saves from Jeff Attinella — filling in for Nick Rimando — and it's almost like the first team guys never left.
Granted, Toronto FC was missing some pieces, too. But both goals came from some great positioning on the part of Allen and Mulholland and fantastic crosses from maestro Javier Morales.
Jordan Allen, I think we've found your position
Allen has played all over the pitch. Originally classed as a fullback, he's been found more frequently as a wing forward this season. In the match recap on MLSsoccer.com, they called him a midfielder. What is he? I think we got the answer yesterday. While Olmes was firing shots from 20  yards away, Jordan finds his way, unmarked, into the box and gets on the end of a great ball from Javi. This is the position he should be training in and focussing on. His mobility and awareness of the game make him a huge attacking asset and he's great on recovery.
WTF Olmes?
Someone must've told Olmes to shoot the ball, because shoot he did. Unfortunately, he was nowhere near the goal when he was taking those shots and they wound up not challenging Joe Bendik in any way. I have no problems with Olmes taking shots. I have a problem if he takes a shot he can't make or takes a shot instead of passing to a teammate who may be in a better position. He was guilty of both, it seemed.
Where's the possession?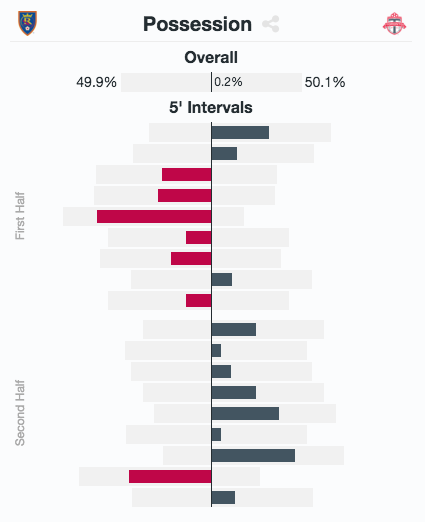 For a team known for their possession, RSL went long stretches without any. Most of the second half, in fact. That has to be pretty alarming. What's more, the beginning of the first half, both teams looked sluggish. It was a nice, sunny day, you might argue the weather had something to do with it if it was the middle of July, but that couldn't shouldn't be the case in the fourth week of the season. No one wanted to challenge the ball, it seemed, which led to what seemed like a lot of missed opportunities.
On a sidenote — I missed the TFC goal looking at the RSL bench, waiting for Jeff Cassar to call in a sub. It eventually came in the form of Jordan Allen, and I was glad. Sebastian Jaime took a hard knock around the 60th minute and looked to be favoring his right knee for the rest of the game. Add to that a couple more hard challenges he was the target of and I hope he's able to play next week. Matt Doyle called this Olmes Garcia's last start, but that might not be the case if Jaime is legitimately hurt. Devon isn't a winger and we don't really have anyone else (with experience) to take Jaime's place if he's unable to start. (Unless we put Mansally there…apparently we're pretty good at having fullbacks who can play as forwards…)